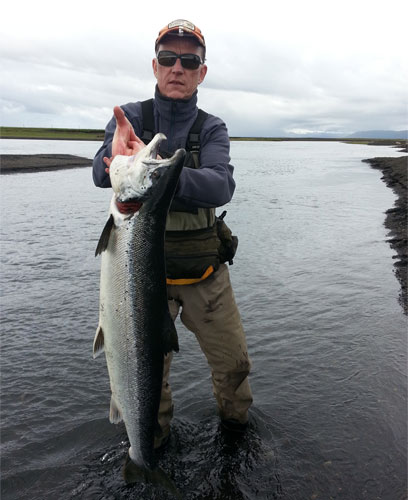 Attractive salmon fishing in Holsa river, which is the area covering lower part of both Ranga rivers.
The whole stretch Holsa East Bank (Lower Ranga fishing area) is about 20km in total all the way down to the ocean.  The main area stretches though from the limits of Thvera – East Ranga (Eystri-Ranga) intersection were it is possible to fish from both banks to West Ranga (Ytri-Ranga)  and then east bank to the gate below the farm, Ártún.
Normally 6 rods occupy this area. All salmon running into both Ranga rivers and Thvera come through this fishing water, approximately 50 thousand annually.
The elegant fishing lodge can accommodate up to 12 in 6 big twin bedded rooms, with shower facilities, etc.
Fishing is offered in July, August and September.
Inquiries about price and availability:
[email protected], or [email protected].
Phone (+354) 898 3907.
---
River map Hólsá – Þverá: